The problems women in sporting history faced, wasn't just that they were underrepresented and undervalued. In the same way that women in sport still are today. But that, despite being as good –  if not better than their male counterparts the majority were rarely given the same opportunities. So, it took them years, sometimes decades after the sport was invented, to even be able to participate in it. Let alone be appreciated for their talent.
Society can blame it on the lack of desire to participate or the inability to perform well in sport. Not to mention that 'women were too delicate to compete in contact sport' The truth, however, is that women were never given the same chance to prove themselves in becoming great athletes. Pushed down and casted away, women had to pave their own way into the world of sport.
And that's exactly what these women did…
Tennis
The sky was the only limit for 16 year old Maureen Connolly. When in 1953, not only did she become the youngest but also the only woman to score a Grand Slam. Winning all four major world tennis matches in a single season (US Open, Wimbledon, French and Australian Open).
Nearly a century before her, a woman named Mary Ewing Outerbridge single handedly bought tennis equipment from Bermuda and used it to set up the first tennis court in Staten Island. A little-known fact is that Mary didn't only introduce tennis to the richest borough of New York, she introduced tennis to the entirety of the United States. Being dubbed by historians as 'The  Mother of  American Tennis'
In more recent years…1956. Althea Gibson the top-ranked female tennis player in the world achieved great success. Not only as a female tennis player, but as black female tennis player. She became the first African American person to play in a major US Lawn Tennis Association event, to compete and win at Wimbledon. Not only that but she went on win 11 grand slam titles, earning herself a well deserved place in the 'International Women's Sports Hall of Fame' .
Althea Gibson
Football
Women's football is slowly coming to fore front, but just because its only now beginning to be appreciated doesn't mean it hasn't been around for a long time. In fact it has been played in England for over a century!
The first international women's football match between England and France took place in 1920. It featured a player by the name of Lily Parr. Parr began playing football professionally at the age of 14, and is noted for her remarkable power on the pitch which outshone male players. Surprisingly, women competed against both men and women at this time and Parr certainly held her own against both genders. Across her 32 year long career she racked up 986 goals! And set a precedent for those that would come after her. What is most staggering, is that she did that all whilst working as nurse in a psychiatric hospital. Lily has since been honored for her contribution to women's football has become the first female football player to be commemorated with a statue.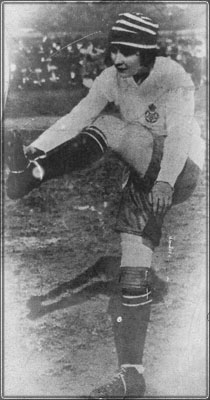 Lily Parr
International Stars
Becoming the youngest in achieving a milestone, hundreds before having failed to do, should be regarded as a monumental accomplishment. This is how Birgit Prinz, a German female footballer, felt like when she became the youngest player to appear in a World Cup Final. Her success hardly stopped there. In 2003, she was offered a contract with the men's Series A side Perugia, one of the most prestigious football clubs in Umbria, Italy. Prinz, however, rejected the offer and rightfully so. Fearing that she would be used to just attract the media's attention, Prinz refused to become a publicity stunt. Instead, she became an active advocate for equality and equity for women in football.
Continuing with the record-holding football players is Marta Vieira da Silva. She holds the record for most goals in the history of the Women's World Cup. Marta also became the first footballer ever to net at five consecutive World Cup tournaments. Her achievements aren't registered only within women's football, they have changed the game as a whole.
Behind the lines
Women aren't only thriving on the pitch; they are excelling behind the scenes just as much. A former footballer and a current coach Hope Powell is the first woman to hold a UEFA Pro License. Which is the highest qualification available to any manager. She coached the women's national football team and Great Britain's women's team at several Olympics. Becoming not only the first female, but the first person of color to manage England at any level.
Swimming
At the age of 14, Hungarian swimmer Krisztina Egerszegi. Became the youngest female Olympic champion in history by winning the 200-meter backstroke in 1988. When people say age is just a number, this is what we all should assume is being talked about. Not only did she snatch the gold, but she also set a world record! Which she held for more than 17 years.
Another Olympic pioneer in swimming is athlete Fanny Durack. During the 1912 Olympics in Stockholm, she became the first female champion in the history of the games. Setting a record in the 100-meter freestyle and winning the gold. During the peak of her career, between the years of 1910 and 1018, Durack held every record in women's swimming. Ranging from the 100-meter freestyle to the mile. To put it into perspective, nowadays such a milestone is not only unheard of, but it is an impossible achievement that very few have tried to accomplish. The one's that have, ultimately failed.
In 1926, with a time of 14 hours and 34 minutes, Gertrude Ederle became the first woman to successfully swim across the English Channel. This was a huge step for women's marathon swimming, for her time was 2 hours faster than the top men's time at that time!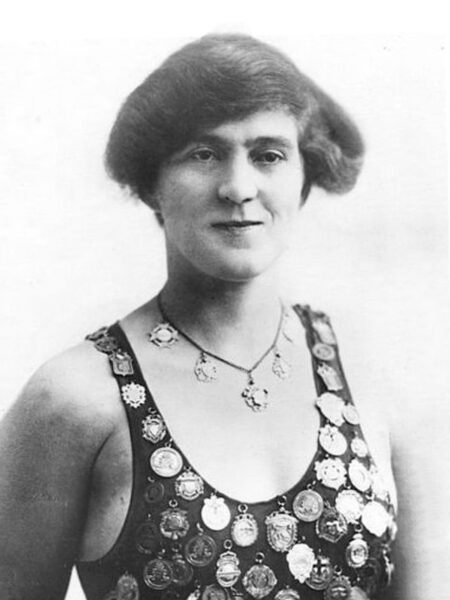 Fanny Durack
Basketball
When basketball was invented in 1891 by Dr. James Naismith. No one really thought of teaching the sport to women. Not until a couple of years later when two women, Senda Berenson and Clara Gregory Bear took the matter into their own hands. They introduced basketball to young girls for their P.E classes, turning the game into the first ever women's team sport. The rules, however, had to be modified due to the Victorian medical misconceptions that women are fragile and are prone to suffer from 'nervous fatigue'. Only decades later, in the beginning of the 20th century were women 'allowed' to play basketball in the original way it was created.
Since its creation to modern day basketball has gone through many changes. Influenced by countless of people and shaped into the game that is loved by millions today.
Queens of the Court
Historically, one of the most influential people for the game is none other than Sheryl Swoopes. For a long time, her name was  synonymous for the league. She was a trendsetter, setting the mark for everyone else playing the game. She became the first to record a triple-double, and the first to win an NCAA championship, a WNBA title and an Olympic gold medal. When people thought of WNBA, they thought of Sheryl Swoopes. She was the first player in both WNBA and NBA history to win 3 MVP's and 3 DPOY awards. She is truly one of a kind.
Swoopes' predecessor and most likely inspiration was Lusia Harris. Harris is credited as the first and only woman ever officially drafted by the National Basketball Association (NBA), a men's professional basketball league. The WNBA was yet to exist. However although she was picked over 33 male candidates Harris never actually played for the NBA. It later transpired that she turned down the offer due to her pregnancy. However that doesn't take away from her achievements. She was MVP multiple times throughout her college career, won a gold medal at the Pan American games, and scored the first ever points in a women's Olympic basketball tournament. As if that wasn't enough she even has an academy nominated film – aptly titled The Queen of Basketball .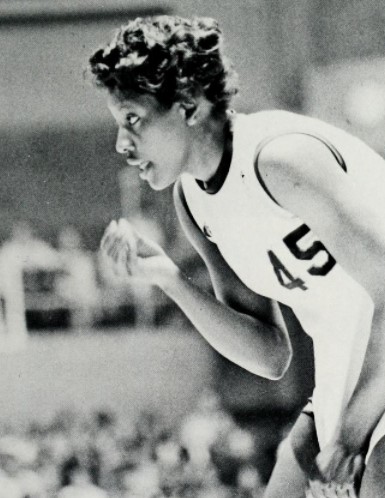 Lusia Harris
These women have changed their retrospective games, and pioneered their sport. The legacies they have left continue to inspire rising young athletes, who in turn will inspire the next generation. Women, for as long as they have been allowed to participate have broken barriers in the sporting world. And thanks to those that came before them, they can continue to do so on the already part paved path to equality.