The game of football has not always been the intricate and fascinating sport that we love today. Modern football has been shaped and reshaped by outstanding players throughout its history. Arguably the most prominent one of them, barely gets any recognition for the contribution he has made. Among his many titles, Andrew Watson was the first black man to play football internationally, the first black man to captain for Scotland, the first black man to win a major Cup competition, and the first black man to be appointed as a football administrative. But above all Andrew Watson helped form football as we know it today.
History may have forgotten him, but we certainly haven't!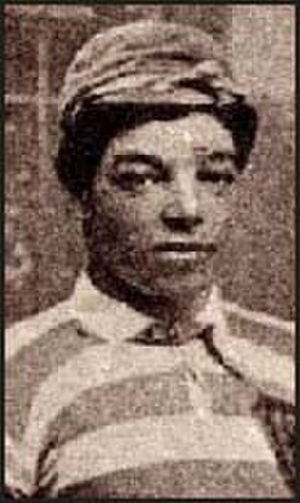 Andrew Watson
Early Years
Andrew Watson was born in 1856 in Georgetown, British Guyana to a wealthy Scottish sugar planter Peter Miller Watson and local British Guianese woman Hannah Rose. At around the age of six, Watson moved to Britain together with his father and older sister, leaving his mother behind.
He was first exposed to football in his early education. After his father's death in 1869, Watson became financially independent and was able to devote a significant amount of time to the sport. Alongside football, he received an education in the University of Glasgow where he studied engineering, mathematics and natural philosophy. He did not finish his degree, and after a year he partnered in Watson, Miller & Baird, a wholesale warehouse business.
Club Career
Watson started his football club career in 1874 by playing for Maxwell FC. Soon after, he moved to Parkgrove FC where he also served as a secretary. At that time Andrew Watson was the first and only black administrator in football.
In 1880 he got invited to join Queen's Park, Britain's biggest football team and the most elite FC in Scotland. He led the team to two consecutive Scottish cups in 1881 and 1882, not only becoming the first black person to win a major competition, but also the first black person to play football internationally.
The Scottish Football Association Annual of 1880-81 praised Watson as follows:
'Watson, Andrew: One of the very best backs we have; since joining Queen's Park has made rapid strides to the front as a player; has great speed and tackles splendidly; powerful and sure kick; well worthy of a place in any representative team.'
Watson also became the first black person to play in the English Cup, when in 1882 he was invited to join the Swifts.
During the same period Watson led a group of prominent football players named 'Scotch professors' who developed a new concept for the game. They introduced combination game, specific passing and position tactics, organized interplay, and teamwork. This fresh style of playing was later adopted by England and reshaped football as the game we know today.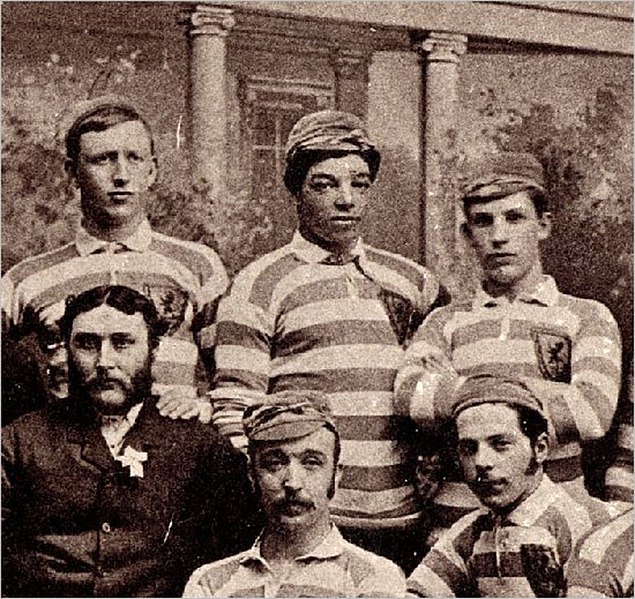 Andrew Watson (top centre) with the Scottish team that played England at Hampden Park.
Professionalism
In the following couple of years Watson divided his time between London and Glasgow. Since he was no longer a full time Scottish resident, he was ineligible to play in international games. Cutting his international career short. This, however, did not hinder his success.
In 1887 Watson signed for Merseyside club Bootle. Bootle was known for paying some of their most prominent players. In The Forgotten Rivals. A History of Bootle Football Club, Tony Onslow indicated that Watson was among one of the players that was getting a financial compensation from Bootle. Following his many firsts, Andrew Watson was now, also the first black person to become a professional football player.
Hardships
Surprisingly enough, Andrew Watson experienced very little racial discrimination during his career. Despite the long history of Britain's prejudice and discrimination against people of colour, Watson himself seemed to not have fallen victim to the oppressive system. It could have been because Watson's father was a well-known wealthy sugar planter or that Scottish football was still considered an amateur sport.
However, it was not just his background that gained him respect among his peers, but his talent, hard work and achievements as a player. Watson transcended racism by being exceptionally good at what he did.
Even then, Watson was met with great hardships. His status as a child of an unmarried black mother and white father was considered highly problematic. Often Watson was presented as an orphan. He was forced to become financially independent at the tender age of 13, after his father's death. His mother had been left behind in British Guyana, so Watson was left with only his older sister as immediate family.
Whitewashed Football
Although Watson did not face a huge amount of direct racism during his career, the history of English football has been whitewashed. The contributions made by people of colour have been pushed aside on numerous occasions. Andrew Watson's legacy is no exception. Very few people are aware of the huge impact he has left on the game, not only as the first black man to achieve all these milestones, but also as an exceptional player who has changed the playing style of football for the better.
The discrimination against people of colour in football continued for the next 120 years. Only in 2004 did Scotland invite their second (after Watson) black player, Nigel Quashie, to join the team.
Despite scoring many firsts as a person of colour in the world of football and leaving a lasting impact on the game. Andrew Watson is rarely credited for his remarkable success as a black football player. In fact, he is often forgotten regarding the history of the game. After retiring in London in 1910, Andrew Watson died in 1921, at the age of 64. Regrettably, his death went unnoticed by the football world.