If you're looking for the best moisturisers for black skin, then you're in the right place. Skincare – like much of self-care – has to be suited to our individual needs. And this gets even more tailored when you take complexion into account. It's no secret that black skincare has never been at the forefront of the skincare industry – but that's changing now.
With brands finally introducing lines specifically for darker skin, and with black owned businesses at an all-time high, there's a much larger range of products than there has been previously. And when it comes to black skincare, moisturising is an essential step in any routine.
5 Best Moisturisers for Darker Skin
But finding the best moisturiser for black skin can be difficult – trust me, we know. Between the plethora of high end and drugstore products available, trying to find products that add moisture and even darker complexions without leaving white casts is a challenge. And that's just one product – building a skincare routine is a whole other ballgame. This is why the team here at The Inclusion Post have done the research for you and compiled our list of the 5 best moisturisers for black skin. Add them into your skincare routine right now and you can thank us for your glowing complexions later
Disclosure: We only endorse things we've personally used or come highly recommended by trusted peers. As an Amazon Associate member TheInclusionPost may earn a small commission from qualifying purchases. However, there's no extra cost to you. 
1. Epionce Ultra Shield Lotion SPF 50
Despite Epionce's growing popularity as a skincare brand. A hidden gem in their line that you may not have discovered is their SPF! Although it is not marketed directly as a black skincare product, we've found that it is perfect as a moisturiser for black skin as its lightweight and leaves no white cast!
SPF is an essential step in every skin routine but finding the right moisturiser with SPF can be a challenge. However, this Epionce SPF works wonders as a moisturising sunscreen that protects the skin from UVA and UVB rays whilst also keeping it soft and smooth.
It remains water resistant for up to 80 minutes after application and is perfect to use underneath makeup as a base, making it a great versatile item to have in your collection.

Key Ingredients: Homosalate 10.0%, Octisalate 5.0%, Zinc Oxide 10.0%
Pros:
Remains water resistant for a long time
Feels lightweight on skin
Protects against UVA and UVB rays
Doesn't leave white cast
Cons:
Can appear on oily skin
Avoid use around eyes as it can cause sensitivity
Shop for Epionce Ultra Shield Lotion SPF 50 here
2. Paula's Choice Retinol Skin-Smoothing Body Treatment
This moisturiser is the remedy for dry, uneven skin. Containing 0.1% retinol concentration and plant oils, this body lotion softens and firms the skin simultaneously. It is great for evening out the skin to produce a smoother complexion and is long lasting as it keeps skin soft for hours.
It improves texture and complexion after a few uses, and the shea butter is great for smoothing dry skin. We would also recommend this moisturiser for those with mature skin, as it is brilliant for reducing signs of aging – including but not limited to wrinkles and sun damage.
Reviews have commented that skin feels firmer after use, and it gives the skin a glow thanks to the antioxidants and emollients found in the moisturiser. However, do be careful when using in conjunction with chemical exfoliants or products high in vitamin C or acids such as glycolic as it can cause irritation for some.

Key Ingredients: Shea Butter, Evening Primrose Oil, Retinol (Vitamin A)
Pros:
Evens complexion
Smooths dry skin
Reduces signs of ages
Skin feels firmer after use
Cons:
The price is higher than competitors
Can be harsh to skin if used on the face too often
Shop for Paula's Choice Retinol Skin-Smoothing Body Treatment here
3. CeraVe, Moisturising Cream
CeraVe's products have been growing in popularity over the years – and for good reason. This moisturising cream is a fan favourite as it is great for daily use. but it is particularly good for black skin as it works to treat dry and sensitive skin.
Containing glycerine, hyaluronic acid and ceramides, these ingredients are the perfect trio for retaining moisture and improving the skin's barrier. The three ceramides in this cream are especially  important for healing dry, irritated skin as they make up 50% of the lipids in the skin barrier!
As it is fragrance free, paraben free and allergy tested, it is approved for use on eczema, and is great for dry skin overall thanks to the thick formula that locks in moisture. This cream can be used as a face and body lotion, making it another versatile product to include in your skincare regime.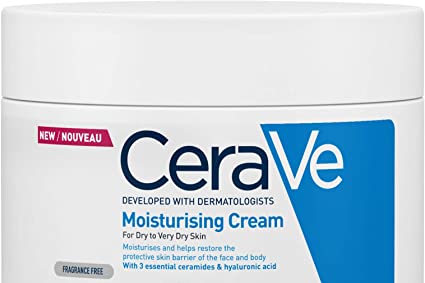 Key Ingredients: Hyaluronic Acid and Ceramides 1, 3 and 6-II
Pros:
Heals dry, irritated skin
Can be used on eczema
Both a face and body lotion
Good for sensitive skin
Cons:
May cause breakouts if used on broken skin
Consistency is a bit heavy for some
Shop for CeraVe's Moisturising Cream here.
4. A'Kin Intense Hydration Day & Night Cream
This day and night cream moisturising black skin. With natural ingredients such as shea butter and rosehip oil, it is perfect for those who suffer from extreme dryness as it is soothing on the skin whilst repairing and replenishing moisture.
The inclusion of avocado oil in the formula also provides vitamin A, which hydrates the skin and immediately improves the appearance of dull skin. It's thick texture and light scent makes it a great daily moisturiser, and we've found that it's very gentle on the skin as the formula is free from parabens, artificial colours, fragrances, sulphates, and silicones.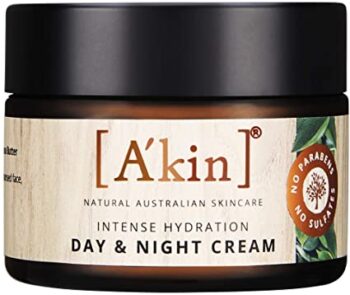 Key Ingredients: Rosehip Oil, Shea Butter, Avocado Oil
Pros:
Safe for sensitive skin
Hydrates dry skin
Reduces signs of aging
Brightens dull skin
Cons:
Balm-like texture can be too thick for some
Some people reported break outs from this product – be sure to do a patch test first
Shop for A'Kin Intense Hydration Day & Night Cream here.
5. Palmer's Cocoa Butter Moisture Rich Night Cream
We can't discuss the best moisturisers for black skin without mentioning Palmers. Palmers has been a household favourite for years – and for good reason. Their cocoa butter-based products have been proven to moisturise, and this night cream is no different. Loaded with vitamin E, this rich night cream left our skin feeling soft without clogging pores. As it also contains retinol, which helps to reduce the appearance of fine lines and wrinkles over time.
This night cream is fantastic for dry skin as the cocoa butter and vitamin E together smooth scarring and moisturise the skin by bonding with the oils naturally found in the skin. The aloe vera is also great for soothing irritated skin, whilst the peptide complex found in this night cream stimulates collagen to maintain a youthful complexion.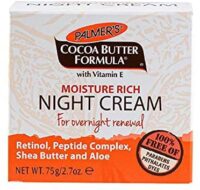 Key Ingredients: Cocoa Butter, Vitamin E, Retinol, Aloe
Pros:
Moistures skin and reduces scarring
Stimulates collagen
Reduced signs of aging
Budget friendly
Cons:
Has a strong fragrance
Not suitable for sensitive skin
Shop for Palmer's Cocoa Butter Moisture Rich Night Cream here.
FAQs
Why do we need skincare products specifically for black skin?
For years, black skincare has been left out of the skincare conversation, and so it is still a new branch of skincare that is rapidly growing. Those with darker skin require different products that are fitted to their complexion as they deal with skincare issues that those with lighter skin do not have. For example, products for redness would not be very useful in the skincare routine of those with darker skin, whereas products that target acne scarring would. This is why it is important to incorporate products into your routine which are made to tackle your personal skin care concerns – and complexion is a factor to consider in this.
What are ceramides?
Ceramides are a type of lipid (fatty acid) that is naturally found in skin cells. When incorporated into skincare products, they are great treating dryness as they work by locking moisture into the skin – hence why they are used in moisturises such as the CeraVe Moisturising Cream. As a result, they also reduce the appearance of aging as they are maintaining the skin's moisture.
What is retinol?
Retinol is a skin care ingredient derived from vitamin A and penetrates into the middle layer of the skin (dermis). Here it promotes collagen and elastin production, which reduces the visible signs of aging. It is usually found in products targeted at mature skin and acne, as it can treat acne scarring and reduced inflammation.
Where can I purchase these products?
All products mentioned above can be purchased in a number of retail stores, or simply follow the links provided to purchase the products via Amazon.
I've been using these moisturisers for a while, why am I not seeing results?
Consistency is key when it comes to skincare. When it comes to using a new product, you should generally give it three months to see maximum results, but you should start seeing change within 4 weeks as it takes a month for the top layer of the skin to "turnover". If three months have passed and you see no changes, you can conclude that this product might not be for you – and that's okay!
What To Look for In Skincare
There are a number of factors to consider when looking for skincare tailored for darker skin. Between dry skin conditions and hyperpigmentation, darker skin comes with a range of different concerns that can't be treated by just any product – anything targeted towards redness, for example, is not going to be useful. It is important to make sure that the products you are incorporating in your skincare routine are ones that contain the right ingredients to deal with your individual skin concerns, but these three things are essential to consider when buying skincare products.
Treating Hyperpigmentation
It is widely known a major skincare concern for black people is hyperpigmentation. This is particularly common after experiencing acne, as scarring often occurs. As such, it is important to look for products with vitamin C, retinol, and kojic acid in – to name a few. Be careful with these products though, as they can cause dryness and sensitivity if not used correctly.
SPF
When looking for moisturisers, be sure to look for moisturisers with SPF! A common misconception for years has been that those with darker skin do not need sunscreen – and our skin is suffering as a result of this. Although black people generally don't experience sunburns and sunspots, they can still be susceptible to this depending on their complexion. And most of all, sun exposure can make hyperpigmentation worse. Dr Ukeleghe – founder of Skn Doctor – comments on the importance of including SPF in your skincare routine:
"SPF is hugely important for protecting your skin from harmful, ageing UV rays…Whilst melanin does provide complexions with a little more natural protection, you certainly shouldn't be skipping SPF."
Water Based Products
When tackling dryness, a key point to remember is that oil is not a moisturiser. Many black people use oils for moisture and fail to understand that although they appear moisturising, they simply sit on the skin. The best moisturisers for black dry skin are water-based. Using these before using oil will allow the skin to actually be hydrated, and the oil can be applied over it to seal this moisture in.
The Takeaway Message
At the end of the day, skincare is very unique and takes some trial and error to get right – especially for black skin. Don't be afraid to try a range of different moisturisers to see what works for your skin, and it's important to remember that consistency is key when testing new products. Be sure to give yourself a few weeks before checking for results. With this being said, the moisturisers recommended above are a great starting place for developing a routine tailored specifically to your skin type.