Serena Williams is undeniably one of the best female athletes of our time. Ranked singles world No. 1 for over 300 weeks, Williams has continuously earned her place among the greats in sport. She has broken the barrier between male and female tennis, proving to the world that the talent and expertise female athletes possess can change the face of sport when allowed to flourish.
Family Business
Born September 26th, 1981, in Saginaw, Michigan, Serena Williams is one of the most influential professional tennis players. She is the younger sister of renowned tennis player Venus Williams, and the sisters were coached by their father who played a huge role in their success. As seen in the recent biopic 'King Richard', the Williams' father had written an 85-page plan detailing how he would turn his daughters into sporting superstars. He began taking the pair to practice in public courts when Serena was only 4.
As a result, the girls participated in national junior tennis tournaments throughout their childhoods, and Serena had already achieved a number one ranking among under-10 players in Florida by the time she turned 10! Soon after, when Williams began high school their father made the decision to take over all of their coaching. And it was not long after that, she began her career by making her professional debut.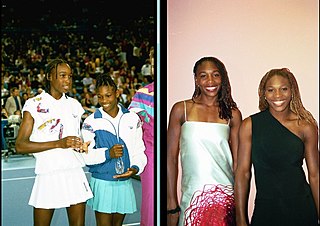 Venus & Serena 1993 and 2001 Kingkongphoto & www.celebrity-photos.com from Laurel Maryland, USA, CC BY-SA 2.0
From Average to Ace
Williams played professionally for the first time at only 14 years of age. Two years later, she went on to play at the Ameritech Cup Chicago, and here she broke records by being the lowest ranked player in the Open Era to win two matches against top-10 opponents. This defining moment was the start of her success. Williams has now become one of the most decorated athletes of all time, having achieved remarkable accomplishments throughout her career.
This includes holding the title of singles world No.1 in women's tennis for 319 weeks and winning a 2012 Olympic gold alongside all the major tennis tournaments that year – making her the first tennis player to ever achieve a Career Golden Slam in both singles and double. Most impressive of all, Williams has won 23 Grand Slam singles titles – the second most in history – whilst being at least 8 weeks pregnant during her 23rd win! Williams' colourful record of achievements is enough to prove her position as a pioneer in women's sport, but as the multitalented woman she is, she has gone on to inspire us all in a plethora of other ways.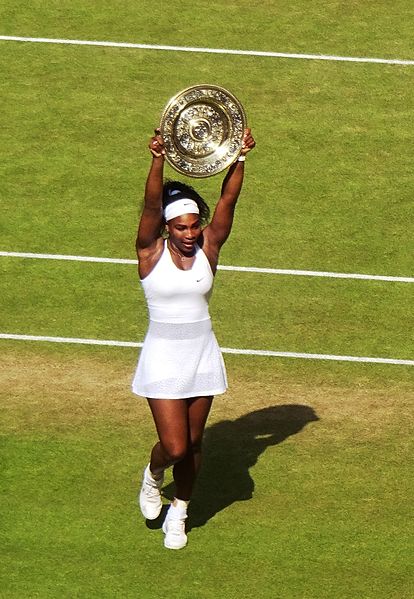 photo credit: Azilko, CC BY-SA 4.0
Life Off the Court
Williams has done so much for women in sport and has continued to be a pioneer outside of tennis. Using the leverage from her sporting success, Williams capitalised off her brand to become one of the most financially successful female athletes. Her partnerships with household brands from Nike to Pepsi landed her on multiple Forbes' lists in 2020, including being one of two women on The World's Highest-Paid Athletes. She is known to own stakes in both UFC and the Miami Dolphins, adding to her impressive investment portfolio worth over $10 million.
Aside from financial success, Williams has bravely spoken out about her difficult labour experience and her struggle with postpartum. After having undergone an emergency c-section due to complications during birth, she suffered with several blood clots and had to have numerous surgeries to restore her health. As a result, Williams admits to struggling emotionally post-partum, and spoke candidly on social media about her feelings as she said:
"Mostly, I felt like I was not a good mom…It's totally normal to feel like I'm not doing enough for my baby"
Postpartum depression is something so many women go through, yet not many have been so open about this and can often feel isolated when it happens. Public figures like Williams speaking out about her experience helps normalise these feelings, making it easier for women to get the support they need and cope with these feelings better.
Shaping Sport Through Success
Female tennis players have been transforming the sport since the birth of professional women's tennis in 1970. But when Venus and Serena Williams joined the scene in the 90s, they changed the trajectory of the sport forever. Williams' play is characterised by her powerful and precise serves – an embodiment of the strong competitor she is. However, this strength has often led to her talent being overlooked. Black athletes have been plagued with praise regarding their "pace and power", but these comments are backhanded, insinuating that black athletes succeed only due to genetic advantages and not skill. Despite being known for her power, Williams has combined this strength with technique and accuracy, making her style of play extremely unique for a tennis player at the time. Going forward, other female tennis players followed suit, with players becoming stronger and more skilled whilst maintaining pace.
Winning Over Adversity
Williams did not bring about this change without backlash. Since childhood, she has been the subject of racism and discrimination. She faced years of bullying for being "too muscular" and "too manly" in the eyes of critics. She has even had crowds chant racial slurs as she played in her younger years. However, Williams did not falter in the face of adversity, and in an interview with CNN, she discussed how her and her sister's dedication to winning is what has allowed female tennis to become what it has today:
"We never looked at it as a colour thing. We knew that we were entering an all-white sport, but for us, it was like we were entering tennis and we are here to win…And yeah, we had to play harder, we had to be better, but it made us better and at the end of the day, every time we faced a challenge and every time we overcame that challenge, it created Venus and Serena"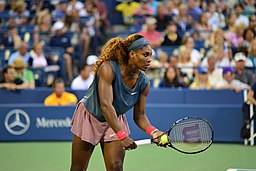 Serena embodies power and pace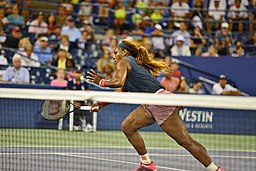 Photo credit: Edwin Martinez from The Bronx, CC BY 2.0
The Future of Female Tennis
The success of tennis players like Serena Williams is extraordinary. Between facing discrimination, countless injuries, and balancing motherhood with her career, she has overcome every hardship and earned her title as one of the best tennis players in history. But this did not happen by chance. It is the combination of her hard work, talent, and her dedication to perfecting her craft that has laid down a solid foundation that female tennis players can continue to build on. Women like Williams are integral to sport, and are a consistent reminder that no goal is unachievable when we have the drive and ambition to achieve it.