In the past two decades, global temperatures have been skyrocketing. Sea levels have risen severely, and ice sheets have lost trillions of tons of ice. Climate change should be a problem taken seriously by world leaders, people with power and influence who have the means of making a positive change. But also by anyone who is concerned with the problem (which should be everyone!).
However, our biggest climate change activist is none other than a 19-year-old fresh-out-of-school- girl AKA Greta Thunberg. Equipped with only strong determination to save her home – planet Earth.
Anders Hellberg, CC BY-SA 4.0, via Wikimedia Commons
Who is Greta Thunberg?
At the tender age of 8 Greta Thunberg learned about the issues of climate change. The dreadful reality we are about to face deeply disturbed her, and within the next couple of years Greta changed her habits and began living a more sustainable life.
Greta's vigorous activism influenced her family first. Despite having to change their lives drastically, her parents were quick in following Greta's example of veganism, upcycling and giving up on flying. Even when her mother had to abandon her career as an international opera singer, her family was quick to defend Greta and their new lifestyle. In a BBC interview in 2019, Greta's father showed his support:
"To be honest, (her mother) didn't do it to save the climate. She did it to save her child because she saw how much it meant to her. And then, when she did that, she saw how much (Greta) grew from that, how much energy she got from it."
Greta Thunberg has always been vocal about her Autism Spectrum Disorder (ASD). Sharing from her experience, Greta has expressed that being autistic has 'limited' her before, but she has never seen it as an illness. Instead, she often describes it as having "superpowers".
Her autism has prevented her from being passive and ignorant of this global crisis. Greta says that her condition is what sparked her desire to fight for a better, more environmentally friendly future.
So, who is Greta? She's a Swedish schoolgirl turned activist, using her 'disadvantages' to the advantage of us all. She's a girl on a mission to save our planet.
Anders Hellberg, CC BY-SA 4.0 , via Wikimedia Commons
School Strike for Climate
Prior to the Swedish election in September 2018, Greta Thunberg sat outside the parliament with a sign that stated 'Skolstrejk för Klimatet' (School Strike for Climate). Greta was only 15 when she boldly criticized the Swedish government for their lack of action and pressured them to meet carbon emissions targets.
Although she was just a child, Greta managed to spark an affection among fellow citizens. Her small one-person strike quickly evolved into a big protest, as more and more people joined her in her battle against climate change.
Shortly after the election was over, Greta resumed her normal life and returned to school. However, she wasn't done fighting for her cause. She continued to skip school every Friday to strike. These Fridays became known as Fridays for the Future. Greta founded a social movement with the same name which aim is to invoke a desire to "create a society that lives in harmony with its fellow beings and its environment".
Her story became a global phenomenon and generated international attention.
'The Greta Effect'
If the adults weren't listening, the youth was!
As her small campaign was growing into an international movement, Greta was inspiring thousands of students and young people to organize their own strikes. By December of 2018, more than 20,000 students from the UK to Japan, joined Fridays for the Future.
The movement arranges protests and spreads petitions. Aiming to pressure governments to pass legislations to prevent global temperature rises and meet carbon emissions targets. The movement is composed of mainly young people, they often volunteer in community cleanups and organize workshops to spread awareness of endangered ecosystems and species due to climate change.
Greta Thunberg wasn't only raising awareness of the issues of climate change; she was provoking a change. Today, hundreds of thousands of people feel empowered to participate and organize their own protests thanks to her.
Global Recognition
Her global recognition didn't stop there. It only spread further.
Greta Thunberg was invited to give a speech at the World Economic Forum in Davos, Switzerland in 2021. She also held speeches in the European Parliament and in front of the legislatures of Italy, France, the UK and the USA.
Her most famous appearance was in 2019 at a UN climate conference in New York. Greta sailed across the Atlantic on an emission-free yacht and delivered her strongest speech yet, criticizing politicians and world leaders for their lack of action against climate change.
"You all come to us young people for hope. How dare you? You have stolen my dreams and my childhood with your empty words."
Following her UN speech, millions of protesters marched in climate strikes in more than 163 countries.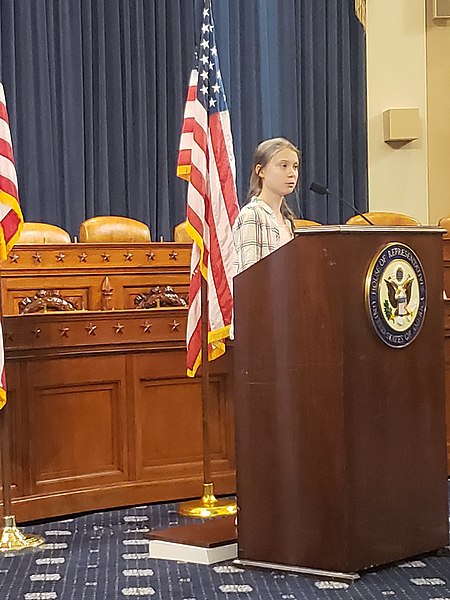 Office of Rep Sean Casten, Public domain, via Wikimedia Commons
A Fight for a Better Future
Following the latest unfortunate news and the war between Russia and Ukraine, Greta Thunberg and Fridays for the Future have mobilized themselves to help the refugees and the vulnerable by raising funds and donations. They aim to help marginalized communities and activists who are living in Ukraine by providing financial support.
It is unfortunate how so many people are trapped by their destructive and narrow beliefs, refusing to see the world as it is today – a dying planet. It's unfortunate that our bravest and strongest fighters are the ones we dismiss for being too naïve and immature. And it's beyond unfortunate that Greta Thunberg, then most determined of us all, felt that she needed to choose between an education and a better future.
Fortunately for us, Greta continues to hold world leaders accountable. She continues to represent future generations who must live with the consequences of those that came before them. She most importantly;- continues to act. Those actions continue to provoke reactions among young people; the future of humanity. The future world leaders that, hopefully won't need a school girl to encourage them to save their planet!