With out and proud sportsmen in almost every other sport, why in 2022 do we not have a male footballer flying the rainbow flag in the Premier League? Boxing has Orlando Cruz, swimming – Tom Daley, but why can't football have its gay icon? Even though we live in a progressive society, certain things remain stubbornly traditional. Football is definitely one of them.
Homosexuality in English Football
Fact, there are homosexual players, the laws of statistics say there must be. So why do they remain closeted?
It may have something to do with the prevalent homophobic abuse that is still a common experience among LGBTQ+ players. Rumors from the press are quick to spread to chants from fans and harmful comments on and off the pitch.
When Justin Fashanu came out as gay during the 90's, he became a victim of homophobic abuse. From fellow players, so called fans, the media and even his own family. He gave an exclusive to The Sun to tell his side but this only worsened his situation. They sensationalized his story and made way for a barrage of abuse. His brother John Fashanu responded with his own exclusive headline: "My gay brother is an outcast.' Justin continued to play top tier football for a while but the constant homophobic abuse on top of the racial abuse he already received, was ultimately detrimental to his career.
8 years later he committed suicide after being charged with sexual assault. In his suicide note he claimed that the sexual intercourse was consensual and that despite being innocent he wouldn't receive a fair trial due to his sexuality.
Understandably since then, very few players within English football have come out. As of 2022, there aren't any openly homosexual footballers in England's top four divisions. The legacy of how Fashanu was treated is less than encouraging and no doubt daunts any current player to step out the closet.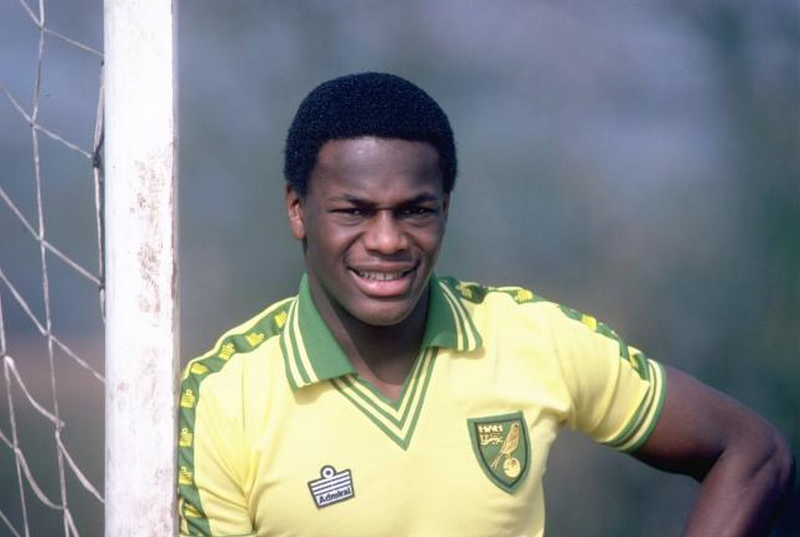 Justin Fashanu
Homophobia and the FA
Despite the apparent intolerance of LGBTQ+ players in football, the FA has implemented strict policies to prevent players and fans expressing homophobic comments.
"An individual's sexual orientation or gender identity should never be a barrier to participating in, and enjoying, our national sport."
From 2007 onwards, they banned homophobic chants. Penalizing both fans and players for homophobic abuse – players were given red cards for using homophobic slurs against rival teams, while fans were being fined. Both FIFA and UEFA have halted or stopped matches altogether, due to fans' rude behavior and homophobic comments.
So with the FA's efforts to eradicate homophobia, we ask the question; is it homophobia really rife in football or is it an external issue?
A new Channel 4 documentary titled: 'Football's coming out' sees current players claim that a gay player would have no issues in the dressing room. Premier League manager Ian Holloway boldly state he would kick anyone with an issue off his team. Adding support to the notion that it's the fans reactions and the media frenzy that is the real preventative here.
It's a global issue
In a 2009 Stonewall report published by the gay rights group, English football was described as 'institutionally homophobic'. Homophobia is deeply integrated within football that it seems to be an inseparable part of the game. However it's not just English football that has this issue.
When Brazilian footballer Richarlyson was called homophobic slurs by a manager of a rival team and after he tried to sue for defamation, his complains were dismissed by the judge who stated: "Football is a virile masculine sport and not a homosexual one."
Mexican fans are also known for shouting homophobic slurs at rival teams, to the point where games were stopped because of them, and fans were charged for verbal harassment.
It is not only verbal abuse that the LGBTQ+ players face after coming out. Eudy Simelane, a former player of South Africa's women's national football team. Was one of the first women to live as openly lesbian in her hometown KwaThema. After coming out, she became a victim of sexual abuse and murder. Both were hate crimes committed against her due to her sexuality.
LGBTQ+ Representation in Football
Despite the negativity that surrounds the LGBTQ+ community in football, there are still a handful positive representations.
Former German professional footballer Thomas Hitzlsperger came out after retirement, becoming the first and only openly gay player to have played in England's Premier League. In recent years two Australian footballers Andy Brennan and Josh Cavallo came out as homosexuals. Brennan was the first Australian professional male footballer to come out, while Cavallo became the only openly gay top flight professional footballer in the world.
In 1989 a new milestone for the LGBTQ+ community in England was achieved. The Gay Football Supporters Network (GFSN) was founded. Their aim was to campaign for gay rights in English football. They organized the GFSN National League, which is a league consisting of teams whose members belong to the LGBTQ+ community. In recent years Britain's highest ranking gay team, Stonewall Football Club, has been on the verge of going semi-professional.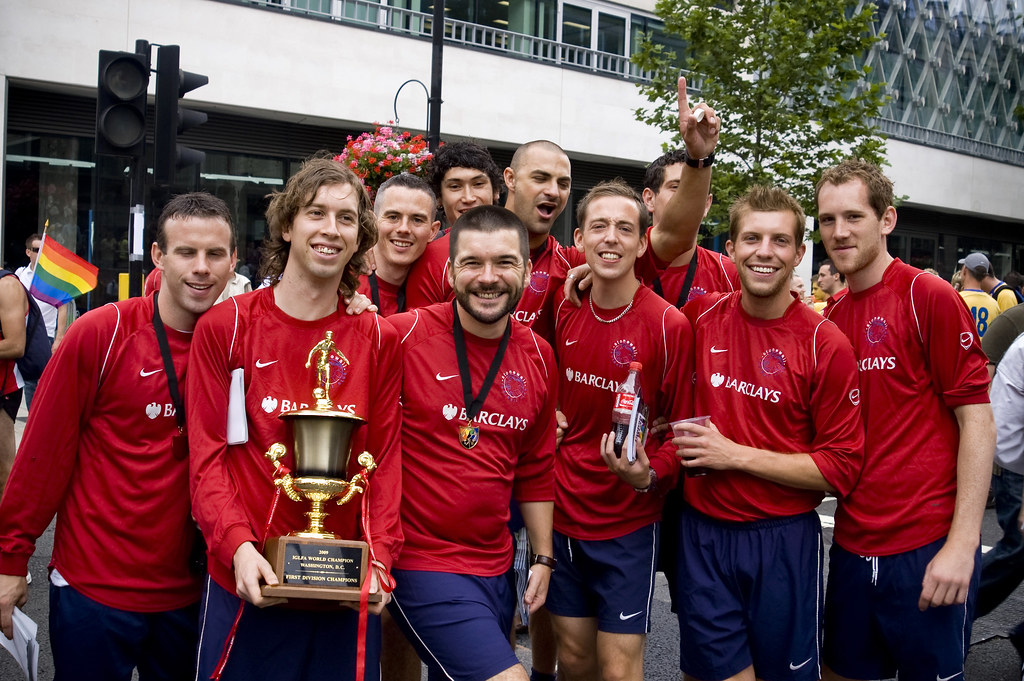 Stonewall FC attribution: flickr.com/photos/lewishamdreamer/3689762244
LGBTQ+ Women in Football
Never mind the gender pay gap (which is monumental between women's and men's football, by the way!) but what about the 'gender gay gap'?
Unlike with men, women's football seems to be a lot more tolerable and acceptant of its LGBTQ+ players. Several high-profile women from Australia, Brazil, England and Norway have come out as openly lesbian. Prime examples are Casey Stoney, former captain of the English women's team; Bárbara who plays as a goalkeeper for the Brazilian women's national team; and Linda Medalen, one of the most celebrated Norwegian footballers.
A huge amount of female footballers have come out as openly lesbian and still actively participate in the sport without their careers negatively affected. For the most part it seems attitudes towards gay women in football are far more lenient.
For most of its history football has been pre-dominantly a male sport. The game has existed for more than a century, but only in 1993 did the FA recognize female football as an official sport. Since then, female football has been mostly associated with breaking gender norms and stereotypes. Maybe this is why it allows its players to freely express their sexual orientations. Women's football wasn't bred with the systematized homophobia and heteronormativity that is prevalent in the men's game.
Out and…retired
Professional football requires traveling to different countries and playing for international teams. Unfortunately, being gay is still illegal in many parts of the world. This is one reason why when players do decide to come out, it's usually after their retirement.
After coming out as gay, Douglas Braga, former Brazilian footballer, states that it is impossible to be both gay and a footballer. The response he got from fans and tabloids drove him to retirement.
The lack of acceptance and abuse on the pitch is enough to convince players to keep their identities a secret until the end of their careers. You can see why, as once retired the media attention is lessened the fans aren't that interested and their on pitch reputation tends to remain intact. Not to mention, they avoid the array of abuse being chanted at them whilst playing the sport they love most.
Will we ever see an out player?
The LGBTQ+ community has come a long way in their battle for equal rights and acceptance. Within football, however, the community still has many battles to fight. It's not just about homophobia in the game itself and the institution. Its about the attitudes of the media, the fan banter that turns abusive, the lack of support. As younger generations begin take over with their fresh attitudes towards equality and diversity the answer to our titled question is…we sincerely hope so.