Dr Alexandra Bulat became the very first person of Romanian background to be elected as an English County Councillor, with a majority of 205 in May 2021.
Not only does she have an impressive academic record, but Bulat also acts as an outspoken advocate of EU citizens' rights. Her passion for this stems from her own dual British-Romanian citizenship status, and how she is also subject to the same abuse that others are upon their arrival to the UK.
Her election into this position in the Abbey Division of Cambridgeshire County Council as a 26-year-old female is ground-breaking on another level too because historically, this is a role predominantly held by men. Not only is there an inequality in gender, but the average UK councillor age was 59, as of 2018.
Over time we have become accustomed to seeing those in power abuse it rather than use it to evoke positive social change, that perhaps it sometimes goes unnoticed. But we must appreciate it more. The changes she continues to make are exactly what we need to see more of in our society, hence why we are writing about such a figure.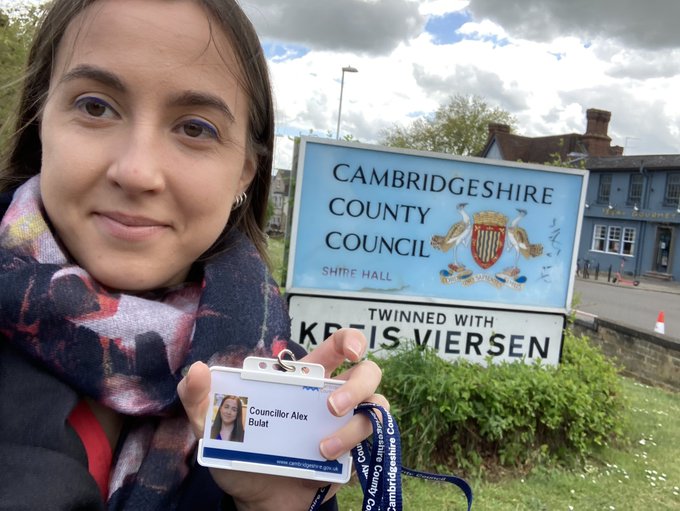 Twitter @alexandrabulat
A Bit of Background
Bulat was brought up in Romania by parents who were both doctors, and so she had great academic expectations for herself. Whilst she did struggle to speak English well upon her return to the UK, she went on to achieve an undergraduate degree from Sussex and a master's degree from Cambridge. She also received her doctorate from UCL, which explored attitudes towards EU migrants in a comparison of British, Romanian, and Polish residents.
Bulat admits that prior to the Brexit vote, she wasn't really interested in politics. In fact, she recounts that it was only in 2017, when changes in policies began to threaten the life which she had built in the UK, that her passion for political activism was ignited.
She realised that if she was worried about her own plight, there would be hundreds of thousands more in a similar position, which she acknowledged on a video posted to her TikTok.
Bulat explained shockingly that, until she ran in the election, there had been no Romanian County Councillors in the UK despite there being around 800,000 Romanians in residency.
Her Fight for Migrant Rights
Bulat is a firm believer that our democracy should reflect the diversity of the people it represents, and the only way to make this happen is to encourage EU migrants living in the UK to become more involved in politics.
She asked how it was fair that the UK is in a situation where there is taxation but not representation for those people who are taxpayers? Bulat concluded that if nobody else was going to stand up and represent those people who needed a voice, she would.
Her main point of friction with UK politics has been rooted within voting, as she feels that having lived here for a shorter time than your neighbour should not infringe on your right to vote on matters that affect us all equally.
Most, she argues, aren't even aware whether they can vote. In fact, a question she regularly hears in her role as County Councillor is 'Can I vote in local elections?' But quite frankly, it isn't always simple to answer if the person asking is an EU citizen.
Bulat speaks out a lot publicly on this, calling for a UK-wide approach on voting which would both clear up confusion for EU citizens and prevent unnecessary challenges for local election administrators.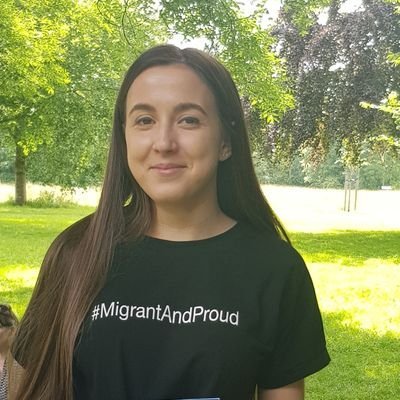 Twitter @alexandrabulat
Her Own Personal Battle
While her activist work has created an open space in public discourse which should ease the transition for those settling into the UK, it surely hasn't been such an easy position for Bulat personally to be in.
It is true that to incite change means to speak out, yet her recent election has come with the difficulty of being subjected to racist and xenophobic abuse by internet trolls. Bulat, on posting one video on TikTok, recalls waking up to over 200 abusive comments and one which even threatened sending a complaint to Labour.
Bulat hasn't let the negativity overshadow her plan for change though, shutting down those who target her, like in the following video she recorded, and sharing her experiences at Labour party events to inform victims of the value of resilience.
Inspiring a generation
So, in summary, whilst these issues are admittedly part of a much larger problem in society, Dr Alexandra's work has been and continues to be of upmost importance. She has personally kickstarted the conversation to improve the integration of a multitude of diverse communities present in the UK.
If her work in the citizens' rights organisation the3million and the Young Europeans Network is anything to go by, Bulat is clearly setting a great precedent for the next generation to act too.