Although April has passed, here at the Inclusion Post we believe in acknowledging inspirational female athletes year around. And we couldn't honour women in sport without taking a moment to celebrate the multitalented, multiple gold medalist Dame Sarah Storey. Storey has officially taken the title as Britain's most successful Paralympian, surpassing Mike Kenny who previously held the title with 16 Paralympic golds. Having extended her sporting talent across both cycling and swimming, Storey is one of the most enchanting athletes to come out of Britain, and she has established herself as one of our sporting heroes.
Making A Splash
Born in Manchester, Storey was born without a functioning left arm. Due to complications with the umbilical cord in the womb, causing her hand to not develop as normal. She began swimming at the age of 10 – despite criticism from her swimming coach who told her she was too old to start training. She started training none-the-less, and went on to make her debut at the 1992 Paralympics at 14 years old. Storey left the 1992 Paralympics with 2 golds, 3 silvers, and a bronze medal under her belt. From this point on, it was apparent that Storey was a force to be reckoned with in sport.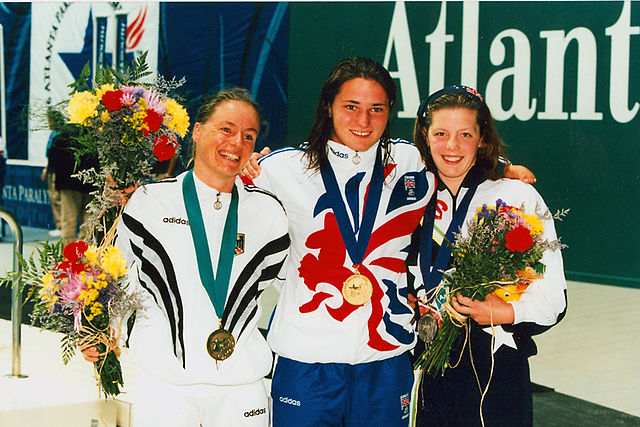 John Sherwell/Sport The Library, CC BY-SA 3.0 , via Wikimedia Commons
Pedaling
 to Success
For the next three Paralympic games, Storey continued to compete in swimming until chronic fatigue syndrome and persistent ear infections caused her to leave the pool in 2005. During this time, she kept up her fitness by getting into cycling, and by the end of that year she had broken the 3km individual pursuit para-cycling world record. As time went on, Storey became more and more invested in cycling and naturally, she made the decision to transition into competing competitively in the sport. She struck gold at the Para-Cycling European Championships the next year as she won triple gold in the individual pursuit, road race and 500-metre time trial! Off the back of this, she began to prepare to compete in her 5th Paralympic games.
Storey continued to make her name known leading up to the Beijing Paralympics as she won her first world title in 2006 at the UCI Para-Cycling World Championship. So, when the Paralympics rolled around, it was no surprise that Storey left with a gold medal in the individual pursuit, along with a time in the top eight of the Olympic finals. As if this was not impressive enough, Storey also won the British Cycling National Track Championships against non-paralympic athletes just over a week after the Paralympics!
This was just the start of Storey's success. In the London 2012 Paralympic Games, she won the first British gold medal in women's individual C5 pursuit and went on to win 3 more golds that same year! She has set numerous world records, including a world and British record in the C5 Paralympic cycling class in 2015. As her medals accumulated, Storey finally took the top spot as the most decorated British Paralympian, now boasting 28 Paralympic medals – 17 of which are gold!
Honouring
Her 'Storey' 
Like many great Paralympians, Storey has made her mark both on and off the track. She has received numerous honours, including an MBE (Member of the Order of the British Empire) in 1998 and an OBE (Officer of the Order of the British Empire) in 2009. In 2020, she also won The Sunday Times Disability Sportswoman of the Year. Aside from honours, Storey consistently strived for greatness and to help others while doing so. In 2014, she and her husband Barney Storey founded an amateur women's cycling team called Pearl Izumi Sports Tours International to support the charity Boot Our Breast Cancer – the team participated in British road races in 2014 and 2015. She has even gone onto inspire in her personal life, as she returned to competing competitively in cycling a year after giving birth to her son in 2017.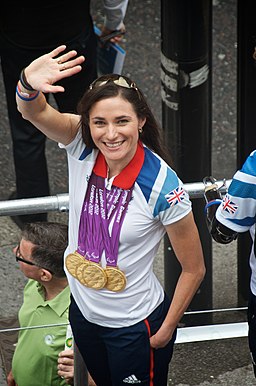 Bill, CC BY 2.0 , via Wikimedia Commons
Sarah Storey is one of Britain's best athletes in every sense. She has flourished in two different sports and has trained relentlessly to become the most successful British Paralympian in the history of the country. By 19 years of age, she had already won 5 medals – a clear example of the dedication and years of expertise she has put into perfecting her craft. Despite her disability and the uncertainty from those around her in regard to her dreams, Sarah Storey's story is an inspiration to any, as she is evidence that we are never tied down to one field and shows that perseverance in the face of adversity can lead to unimaginable success.