We've bid South Asian Heritage Month a sad farewell, but this doesn't mean we should stop acknowledging South Asian achievements. One of the most talked about people in the last month is none other than Rishi Sunak. The businessman come politician might be just on the road of becoming the UK's next Prime Minster.
If you're familiar with UK politics, you should definitely know who Sunak is. But if you're new, here is a quick rundown of who the potential successor of Boris Johnson is.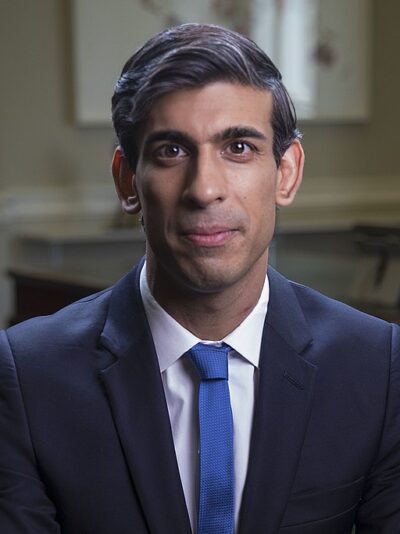 Simon Walker / HM Treasury, OGL 3 , via Wikimedia Commons
Early Life
Rishi Sunak is a British politician and a member of the Conservative Party. Born and raised in England, he has African Hindu parents of Indian descent.
From an early age he has shown intense interest in politics and business. He read Philosophy, Politics and Economics at Lincoln College, Oxford where he graduated with a first. This was followed by an internship at Conservative Campaign Headquarters. And in 2006 he gained an MBA from Stanford University, where he became a Fulbright scholar.
When in 2009 he married, Sunak and his wife Akshata Murty became the 222nd richest couple in Britain with a combined wealth of £730 million as of 2022. Despite the fact that he has benefited from his family's name and fortune as a nepotism baby, Rishi Sunak has tried his best to make a name of his own. For better or worse.
From Businessman to Politician 
After he finalized his education, Sunak followed up with a short career in business before he switched to politics.
He started as an analyst for an investment bank, then became a partner for a hedge fund management firm. Before he won the elections for MP for Richmond (Yorks), Sunak worked as a director for an investment firm, owned by his father-in-law.
The switch from business to politics came to no one's surprise. Sunak was a well-liked public figure, respected both by the media and public. When he joined the Conservative Party, he received one of the highest ratings of all time. People liked him. Politicians liked him. Boris Johnson liked and trusted him for he appointed him as a Chief Secretary to the Treasury in 2019. And only a year later he climbed the hierarchical ladder and became the Chancellor of the Exchequer.
Unfortunately, his reign as the most liked political figure lasted a short while. The public's opinion of him began to change when he voted in favour of Brexit. By the time the pandemic hit, his reputation was completely tarnished.
HM Treasury and The Rt Hon Rishi Sunak MP, OGL 3 , via Wikimedia Commons
Desperate Measures
His downfall only began with Brexit. Sunak was part of the Cabinet minister committee in charge of the pandemic. This meant that he was able to make decisions in regards of the measures and restrictions stopping the spread of the Coronavirus. As the Chancellor he was also in charge of the country's budget and was tasked to deal with the effects the pandemic had on the economy.
He started several schemes and allocated billions of pounds to mitigate these effects. They provided grants to employers to cover the majority of their employee's wage for each month. Though, all of the measures he undertook were heavily criticised. Thousands upon thousands of UK citizens were not eligible for financial support. In fact, very few of them were able to meet the qualification criteria.
Covid-19 Scandals
The criticism didn't stop there. To top it all, Sunak managed to involve himself in a huge scandal which concerned a party in the middle of the pandemic, several high-profile politicians and public figures and the Prime Minister himself. Safe to say, things took an ugly tern.
Since the first lockdown, Sunak has preached about the importance of wearing protective masks, social distancing, and the avoidance of any social gatherings. He has advised the nation that following the restrictions will prevent the spread of the coronavirus. This is in fact true. However, it seems Sunak himself was unable to take his own advice.
On 19 June 2020, Rishi Sunak, Boris Johnson, and several other politicians were caught attending a gathering in the cabinet room. The Metropolitan police handed him a penalty notice, but Sunak never followed up with a statement.
Sunak might not have followed his own rules or taken accountability for his actions, but he surely made quite a historical feat that day. By becoming the first ever Chancellor in British history to have broken the law while in office.
HM Treasury, OGL 3 , via Wikimedia Commons
The Next Prime Minster?
On 8th of July 2022, after Boris Johnson resigned, Sunak announced his intent to become a candidate in the Conservative Party leadership election. By becoming the next PM, he is hoping to "restore trust, rebuild the economy and reunite the country".
Post pandemic, the country is a shambles, with another recession knocking on the door. So how does Sunak plan to fix the current situation? Apparently, introducing a £10 fine for patients who fail to attend GP appointments, tightening the definition of asylum and reducing refugee numbers is the way to go. He may not have people's best interests in mind, but he at least strictly follows his own values of patriotism, hard work and fairness. Though, Sunak also pledged to cut taxes and reduce energy bills (no doubt in a bid to rebuild his lost 'likeability factor'). Hopefully, he will be able to fulfill his promises for the latter.
Rishi Sunak has certainly made a name for himself. From one of the most liked politicians to one of the most disliked. The businessman turned politician knows how to make lasting impressions. Be it through scandals or law reforms. However, regardless of his values, he remains one of the most influential people of South Asian descent. And like him or not, he is on track to becoming Britain's first Asian PM.