The UK is not free from transphobia, surprisingly not even within its healthcare sector. One of the many things contributing to this problem is the lack of education in the treatment of transgender patients. Introducing GC Health; a much needed educational platform, founded in 2022 by a registered nurse and a proud trans man.
Founders George Blake and Claire Carmichael first met in September 2021, connecting instantly. Now thriving in a personal as well as professional relationship, the inspiring couple are working towards bettering both, education and awareness within transgender healthcare.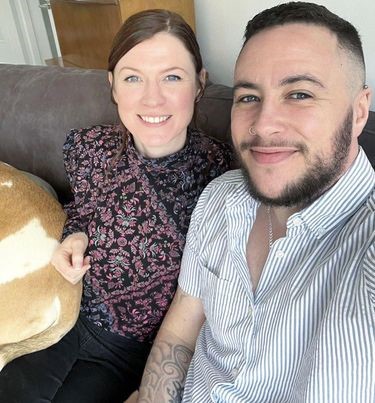 Claire and George: founders of GC Health
Woven Into The Fabrics
Before the stars aligned and brought the two together, George and Claire had both noticed discriminations existing within our NHS. So, before we look at their inspiring solution. Let's first take a look at some of the issues they found that led to the formation of GC Health.
Though transphobic doctors and nurses do exist, the problem is not solely with individuals. Aside from the intolerant views of specific medical staff, there is discrimination which can be traced right down to the core of the National Health Service itself. It is woven into the fabrics. Therefore, unless something structural changes, the voices of the many pro-trans doctors and nurses will be left powerless. But how exactly can transphobic discrimination be seen in the foundations of our healthcare system?
Waiting A Lifetime For A Lifeline
First of all, trans-specific healthcare and gender-affirming surgery through the NHS are insufficient, to say the least. The lengthy process is incredibly taxing for the patients who go through it. Starting when a GP refers them to the specialist Gender Identity Clinics (GIC), the patients are put onto a waiting list until the initial assessment acknowledges that they are in fact transgender. Then, the patient goes through counselling and a diagnosis before finally receiving hormones.
The current waiting times are 3 and a half years, and that is just for a first appointment! (The appointments are often very spread out over multiple years so, in reality, the waiting time is much longer than this). It is a slow and torturous process for so many transgender people in the UK. So much so that some feel they have no choice but to move abroad!
Another example of transphobic discrimination in the structure of the NHS, is the availability/eligibility of medical procedures. Claire, one of the GC Health founders, tells us; that though breast augmentation on the NHS is rightly available for cisgender women on the premise of anxiety and mental health problems. This is a right that is not similarly afforded to transgender women. By enforcing such rules, the NHS is actively denying that transgender women are women. Which I'm sure you can appreciate, is both undeniably discriminatory to transgender patients and detrimental to their mental health.
The G in GC Health
George, a co-founder of GC Health, is a transgender man who has had first-hand experience with the insufficiencies of the NHS regarding transgender health. When he first went to his GP to tell them he was trans, his GP admitted she did not know anything about it. However, she agreed to do the necessary research and has since been able to provide him with great care.
But, despite his positive experience with his GP, the NHS has still failed him in other regards. Given the unbearably lengthy process of getting hormones on the NHS with waiting times of 3 years, George was forced to go private. He simply could not wait that long. It was a matter of life or death.
George explains that he knew he was transgender since the age of 4 years old. Growing up as a female, he always hated himself for it. After struggling immensely with body dysphoria, he finally came out as trans at 30 years old.
"That's what a lot of people don't realise I think, it's not just an overnight decision for trans people. It's ongoing since childhood and it gets to the point where it's literally life or death if they don't do something to change their gender."
Gender-affirming surgeries have had proven benefits in terms of improved mental health. It reduces psychological distress, and even creates a 44% reduction in suicidal ideation. It's startling that the NHS is not doing more to improve this sector of healthcare.
Nursing in the NHS
Claire, a registered nurse since 2020. Made the decision to set up GC Health after realising that there is insufficient training surrounding transgender health. Her realisation came during her first post as a GP nurse, treating transgender patients who had come to receive hormones. Uncomfortable with her limited knowledge in this area, she sought out proper training to improve her understanding of the hormones she was providing. Believing that in order to give the best care possible; education was key. However, she discovered that there was nothing out there – no training and no education for NHS staff on this topic.
Rather than muddle through, and ignore the gap in trans healthcare as many would. She spent the next 2 years researching and building her own knowledge on transgender healthcare so that she was in a position to give educational webinars to other healthcare professionals who lacked proper training in the same way she had.
So GC Health or just 'C Health' as it might have been was almost inevitable from this point. However what Claire didn't know was, incredibly this research would lead her to George and her happily ever after.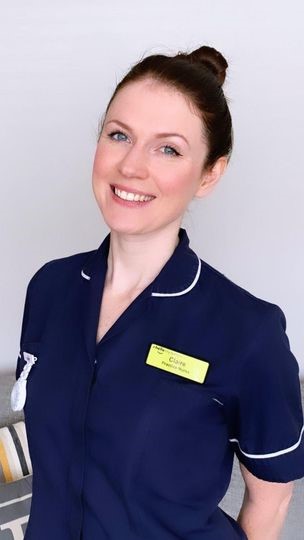 Claire Carmichael: registered nurse and founder of GC Health
GC Health and its mission
GC Health is a very new platform – it is only in the past few months that it has been established. However, since the beginning of the year, the founding pair have been conducting informative webinars for medical professionals to raise awareness of transgender health. At the moment, these free webinars are available to not just healthcare professionals but anyone who wants to improve their understanding. They are accompanied by educational social media posts and the sharing of relevant guidelines. Recently, GC have even shared their informative tools with universities and have acquired funding to put them into primary care in Birmingham. This is an amazing step forward! However to continue their work they are looking for additional funding to help make their resources more widely accessible.
When asked how people have responded to GC Health and the work they are doing. Claire said she has found that most people have been really supportive and many have contacted them saying they want the training in their area. While it is really "exciting and encouraging" to see that people are open to learning, the project has not been without its difficulties.
They have witnessed some negative backlash including cyber hate crimes. Maybe from a societal point of view its not surprising, what is though is that some of it has come from healthcare workers. Hiding behind the fact that, as medical professionals, they must go by 'biological sex' rather than gender. As a registered nurse herself, Claire is well equipped to respond and explains that that is not actually correct. Whilst biological sex may come into it, she says that "there is a way of acknowledging it without discriminating against someone".

The Future Looks Bright
Knowing that one in seven LGBTQ+ people have avoided healthcare treatment for fear of discrimination is absurd. Why is so little is being done to change this from within the NHS? Hopefully, with the likes of GC Health and other pro-inclusion platforms fighting against these institutional inequalities, transgender healthcare in the UK will be transformed. Along with many lives.
Yet its not just GC Health that the two have had growth and success with. George and Claire are also taking exciting steps in their relationship. George temporarily moved in with Claire following his top surgery, so that she could care for him during his recovery. However what should've been 8 weeks turned into a permanent arrangement. But their love story doesn't end there… after randomly stumbling on a Wolverhampton based LGBTQ+ charity offering a giveaway wedding. On a whim the newly cohabitating couple decided to apply.  And yes you guessed it, defying all their expectations, they won the competition and are now blissfully amidst planning their dream wedding for 2023!
The future looks bright for this couple and their organisation. If you want to learn more about transgender healthcare, don't hesitate to check out GC Health and their work. After all, healthcare should be universal, and no one should have to fear discrimination when seeking it.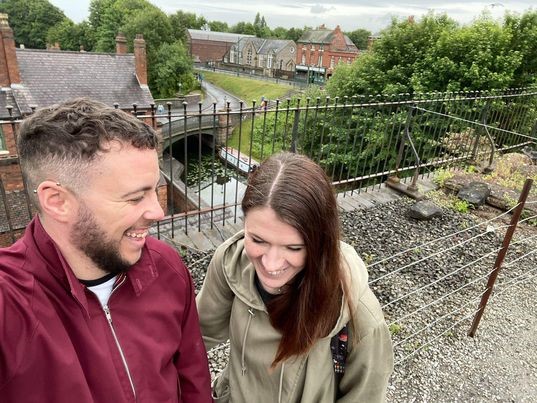 ...and they lived happily ever after