This month, we're celebrating women in sport. And few better have demonstrated how success is possible if you have passion and perseverance than Jeanette Kwakye. Born in London in 1983, she realised her potential for sports as a teenager and subsequently developed into a world class athlete. Despite her own doubts about retiring, she has gone on to have a fulfilling career as an event host, speaker, and established sports reporter and broadcaster for the BBC, Sky Sports, and Channel 5.
Better Late Than Never
Jeanette discovered her love for athletics relatively late compared to most, having taken up sprinting at 14 with her local club, Woodford Green Essex Ladies. She distinctly recalls enjoying the competing more than the training, this being what spurred her on to become a world class athlete. While she did suffer from persistent injuries early on in her career, which restricted her from reaching her full potential, she went on to earn many medals in various championships in the early 2000s. She has been described as an athlete who can always be relied upon at major championships, which her stellar record attests to as a five-time British Athletics Champion.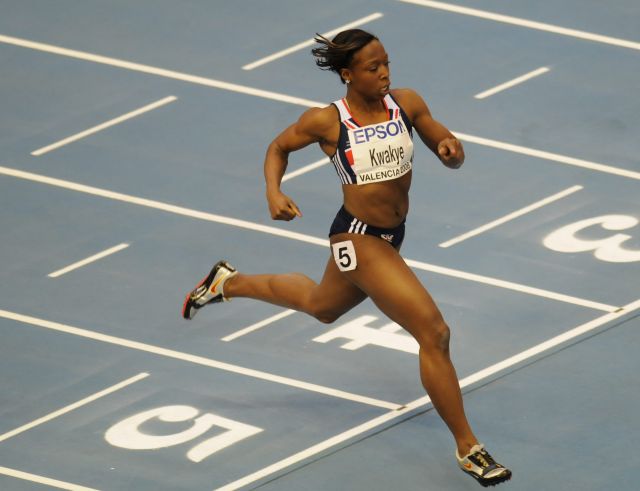 Erik van Leeuwen, GFDL , via Wikimedia Commons
Shared Success
It wasn't long until she qualified for the GB team, and just in time to race at the Beijing Olympics in 2008, Kwakye subsequently became the first British athlete since 1984 to reach the Women's 100m final – an achievement in her career she looks back on as incredibly special to her. Despite not taking the gold, she did manage to make a personal best, with a time of 11.14 seconds. She credits the support from her friends and their successes as essential for lifting her up, specifically singer Estelle, a close friend of hers, who said of Jeanette:
"She has perseverance, which is one of the things that it takes to be a winner."
– Estelle, for MyLondon
Ally Middleton from Tynemouth, England, CC BY 2.0 , via Wikimedia Commons
A New Meaning of Qualified
Despite having doubts, Kwakye took retirement in her stride and even went back to university to earn a degree qualification in Journalism. She wanted to show how serious she was about transitioning into sports media because journalism is her passion, rather than just being a former athlete wanting to speak about sport. Jeanette's love for both sport and media are contagious, and she has said that she feels very privileged to have both experienced being a performer of sport and now being able to tell the stories of sport.
"Sport is my life. I love how it brings people together."
– Jeanette Kwakye, for Athlete 365.
Since retiring, Jeanette works as a journalist, reporting and presenting on huge events such as the Olympics, the Commonwealth Games, and popular TV channels. She has also worked with many renowned brands, such as Twitter, Google, and Adidas, as a corporate host and speaker at their sporting events. Her motivation is fuelled by wanting to empower young people through sport. This is something reflected in the past 12 years she has spent working with the Youth Sport Trust Charity, where she travels to schools around the UK speaking to young people about the advantages of getting into sport.
Her professional journey sends a great message to those unsure about following their dream for fear it isn't a tenable option. Or that it could close the door to other opportunities. Jeanette Kwakye uses the experiences she's had to inform her recommendations for individuals looking to chase their dream profession. She advises that being disciplined and organised are key to a successful career. And so long as you are willing to believe in yourself and have trust in the process, any goal is possible.